Discover more from Hockey Wanderlüst
All things Euro-pucks at home and in the NHL. From veteran international journalists Rob Simpson and Risto Pakarinen and hockey biz executive Ken Yaffe.
April 4 - Covid Crisis, Swedish Elites, Sledding to Worlds
It's a Great Day for Hockey ... from Kouvola to Kingston
STORIES:
NHL Covid Crisis

SHL Hits the Post-Season

Meet the Number One Skills Coach in Sweden

Sledging Ahead (Para Worlds in CZ)
---
FEATURES:
German League Scoring Race

SHL Video Fun!

Czech Extraliga Final Four

"Name the Logo" Answer

Quiz
---
NHL Covid Crisis
(via Simmer)
There have been 45 NHL games postponed this season due to issues with the Covid pandemic. The most recent four, and that number will grow, involve a wave of positive tests in the Vancouver Canucks organization. The League presently has 14 Vancouver players listed under Covid protocol as a variant of the virus has apparently swept its way through the team and coaching staff. Some reportedly have serious symptoms.
The NHL has been dodging bullets, pushing the schedule back with postponements, piling up games between now and the May 8 date planned for the end of the regular season. Forget diminished quality of play for a moment, just how many back-to-backs or every-other-days can players expect to play while staying physically healthy?
The League had survived outbreaks of various degrees in Dallas and Montreal and elsewhere. But as the pile-up grows, the NHL is likely facing what a few European leagues, including Liiga in Finland, have faced, determining playoff seeds on winning or points per game average. It would be a re-boot of last year, when the NHL season ended with teams having played between 68 and 71 games. They were gunning for 56 matches played per-team this season.
Will the Stanley Cup Playoffs be headed back to two or three 2020-style bubbles? That likelihood grows with each passing day. The Czech Extraliga is traveling, but it's playing its semi-finals sans spectators. The KHL in Russia meanwhile is packing them in. Thus far, the NHL in the United States has seen some games played in front of reduced capacity crowds, while the Canadian clubs have been more stringent.
The Canucks need to temporarily rebuild their roster as soon as possible, as unfortunately, not all players will make it back at the same time. Vancouver's AHL affiliate is in Utica, New York. The Comets are just coming out of their own Covid crisis, and any player recalled from there must go through a 7-day quarantine entering Canada. As confirmed by Chris Johnston on the Hockey Night in Canada telecast Saturday night, the Canucks have recalled AHL players on loan to Canada-based franchises, defenseman Guillaume Brisebois in Laval, and goalie Arturs Silovs (Riga, Latvia native) from Manitoba.
For these types of emergencies to occur, all it takes is one player heading out to a restaurant, catching the virus, and bringing back to his team and possibly their families. The League is preaching vigilance; to save the season, but more importantly, to potentially save lives.
---
SHL Hits the Post-Season
(via Risto)
The Swedish SHL regular season came to an end on Saturday with all teams getting to 52 games played. It's time to raise the stakes.
Växjö Lakers is the regular season winner with 102 points, leaving the runner-up, Rögle, four points behind them.

Marek Hrivík, Leksand, won the scoring title with 51 points in 44 games.

Rögle's Simon Ryfors and Färjestad's Daniel Viksten finished at the top of the goal scoring race with 25 goals in 51 games.

Växjö's Viktor Fasth topped the goalie statistics. Both his 1.73 GAA and 93.34 save percentage were the best in the league.

The playoffs begin on Monday with a play-in round, but the true drama will begin on Tuesday when Brynäs (13th) and HV71 (14th) play Game 1 of their best-of-seven series to stay in the top league for the 2021-22 season. The loser gets relegated. The series is a bizarro-world reprise of the 2017 SHL final.

The stakes are high. How high? So high that Brynäs is willing to roll the dice on a new pair of coaches. The team fired their head coach Peter Andersson on the eve of the play-out and hired an inexperienced duo to replace him.

New head coach is Josef Boumedienne, who has been the Columbus Blue Jackets Director of European Scouting for the past five years. The former NHLer has also scouted for Rauma Lukko in the Finnish league but has no coaching experience. His assistant is Nils Ekman, also with experience from NHL rinks, who has most recently worked as GM of the Stockholm Djurgården's women's team.

The loser of the series will be relegated to the next level Hockeyallsvenskan, while the winner of the HockeyAllsvenskan playoffs earns a promotion to the SHL.
Our generous paid subscribers are sharing this edition with some complimentary folk. Before time runs out, jump on the button and …
---
Meet the Number One Skills Coach in Sweden
(Via Risto)
Last week, in the Maple Leafs game against the Oilers, William Nylander carried the puck into the offensive zone. At the hash marks, he made a quick turn to shake Ryan Nugent-Hopkins off his back, and passed the puck to Jake Muzzin who fired a shot from the point. Nylander followed the play and tied the game with a slap shot from the slot. 
It's a move Nylander does often. He makes a quick turn to win time for himself.  
"Turns and winning time" was also the topic of Joachim Ahlgren Bloom's recent presentation at Global Skills Showcase, organized by the NHL Coaches Association's partner Coaches' Site. They went looking for the best skill development coaches in the game and of the original 250 nominees, twenty were invited to make a presentation.
Ahlgren Bloom, 47, was the only skills development coach from Sweden to get the invitation. 
He's one third of JRM Skates & Skills, the M being Mikael Andersson and the R, Roger Johansson, former Team Sweden player with an Olympic and World Championship gold medal in his trophy case.
What started out as a summer camp in 2012 has blossomed into Sweden's leading skills development organization. Even players that have never attended a JRM camp or worked with Ahlgren Bloom have done his drills. Eager coaches copy them from JRM's Instagram account. 
But a copy isn't as good as the original. 
"At the last World Juniors, Team Sweden had nine players we had worked with, including Roger's son, Albert Johansson [Detroit's second round pick in 2019]," Ahlgren Bloom tells Hockey Wanderlüst.
"I'm not saying they're successful because they've worked with us," he adds quickly, "but maybe we've been a contributing factor."
Even though Joachim Ahlgren Bloom is obviously pleased to be working with some of the best players in the world, he doesn't name names. Clients are not identified on their website, although word did get out about one particular Maple Leaf.
"Naturally, it's nice to see players do in games things that we've worked on, even though I don't watch their games that much," he says. "Also, William Nylander is a special talent, one of a kind."
While JRM works with skills in general and even helps with mental coaching, it's skating that remains Ahlgren Bloom top priority. He's a common sight in rinks around Sweden, wearing a big toque, as he shows kids (and NHLers and KHLers and SHLers) how to do edgework. He jumps, twirls, and turns with his hand on the ice, his elbow on the ice, even his shoulder on the ice. 
"We've developed our own concept which works with everybody, from young kids to NHLers and everybody can be on the ice at the same time. The drills are the same, it's the degree of difficulty that varies. It's all individual training. When you work with us, you'll have fun, too," he says. 
Ahlgren Bloom says a few shifts is enough for him to see what a player needs to work on. Often, it's got to do with posture and mobility.
"A lot of players skate with pure power and lack understanding of how to skate properly. It used to be common to have figure skaters as skating coaches, but I think it's better to work with someone who can put the skating into a game's frame of reference," he says. 
And once you have the coach, all it takes is work. 
"I recently spoke with an SHL player about working with him and my question to a player is always the same: 'Are you ready to put in the hours? Meet me at the rink at 9am on a Sunday?' Not everybody says yes," he says. 
"But if you do put in the hours, it can go fast. All it takes is 8,000 reps," he adds with a laugh.  
Ahlgren Bloom believes the need for specialized coaches will only increase in the future, but the doors aren't as wide open as one might think.
"Of course, I'd love to work with an NHL team and if the Maple Leafs call me, I'll listen, but I'd also want to have a genuine chance to show what I can do. If the job is to be out there just to warm guys up for ten minutes, it's not for me," he says. 
Meanwhile in Sweden:
"We made an offer to an SHL team to work with them, and it would've cost them a star player's one month's salary, but that was too much for the team," he says. 
A decade in, JRM is still on a growth trajectory. Hundreds of players attend their summer camps, from young boys and girls to NHLers. Pro players are increasingly looking for someone to help them find that edge. (Pun intended). 
"We have to get better, and I have to keep moving forward, too. We've been at this for ten years. I need to find new ways to challenge the players," he says. 
---
Sledging Ahead
(via Simmer)
One of the more inspirational sights you'll see walking into a USA Hockey Disabled Festival is the collection of crutches, prosthetics, wheelchairs, white canes, and service dogs scattered around the common areas of the hockey complex. These are the symbols of the inclusiveness and diversity that make up these festivals; no other international federation does it nearly as well.
This year, due to Covid, the annual disabled festival has gone virtual, running from April 12 to the 17th. It features coaches' clinics, off-ice training seminars, online contests, and other programs. Participant categories include Wounded Warriors (former soldiers), blind hockey, deaf hockey, Special Hockey (developmental disabilities), sled/sledge (officially known as para-hockey), and standing amputees.
Despite the pandemic limitations, many of the other federations around the world are catching up to the US and Canada with their disabled programs. One of the fastest growing is blind hockey, which recently added national team development efforts in Finland and Sweden. The goal is to establish enough international teams for a legitimate annual world championship and eventually to make blind hockey a Paralympic event by 2030 or 2034.
Meanwhile, the highest profile disabled event is para-hockey, best described as fast and furious. The speed and physicality of the sport always comes as a surprise to first time viewers. Team Canada Captain Tyler McGregor recently told the Courage Hockey Show about the status of upcoming events.
"We're fortunate to be in a position now where a majority of our team is able to access facilities and be on ice and be in the gym. And that may change again," McGregor says.
"The World Championships are supposed to move forward, and again, that's something that could change, but we're hopeful they get off the ground because that will be our next major tournament and a qualifier for next year's Paralympics. It's also an important tournament that determines position and has many important implications as we move forward into Beijing," McGregor adds.
Implications like bragging rights and gold medals. The US won the last Worlds in 2019 and have alternated winning gold with Canada over the last five events. This year's championship is presently slated for June 19 to 26 in Ostrava, Czech Republic.
---
Features:
1. The Penny-DEL leading scorers:
Joe Whitney - Iserlohn Roosters - Leads the league in goals (20) and points (42)
Marcel Noebels - Eisbären Berlin - A remarkable +24 in 29 games played.
Casey Bailey - Iserlohn Roosters - Alaska native has 13 NHL games played.
Jason Akeson - Kölner Haie - Played 15 games for the Philadelphia Flyers.
Leonhard Pfödel - Eisbären Berlin - tied with two other players with 33 points.
The Penny-DEL regular season concludes April 18.
---
2. Goals of the Week from Sweden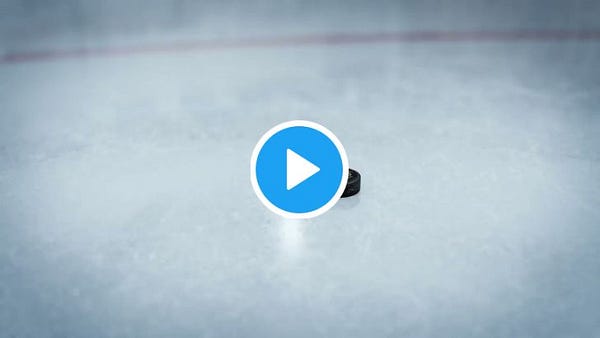 Linköping's Jaakko Rissanen (🇫🇮) finds top shelf from an impossible angle.

Leksand's Mirco Müller (🇨🇭) taps it in from the doorstep.

IK Oskarshamn's Tyler Kelleher (🇺🇸) has no trouble finishing the job.

Växjö's Brendan Gaunce (🇨🇦) spins and scores.

Örebro's Borna Rendulić (🇭🇷) dekes, loses the puck, dekes again – and scores.
---
3. T.G. Masaryk Cup Playoffs:
The Czech Extraliga plays for a trophy named after Czechoslovakia's first president. Similar to the KHL this year, the best four regular season teams have made it through to the semi-finals which started Saturday night.
In Game-1 of (1) Sparta Prague versus (2) Liberec, the top-seed ran into the Jaroslav Vlach show. The 28-year-old Liberec forward had a hat trick in the 3rd period for the White Tigers, as they won the opener 5-1 at the O2 in Prague.

In the other semi-final, (3) Trinec hosted (4) Mlada Boleslav and this time the home team prevailed. Martin Ruzicka and Michal Kovarchik each had a 2nd-period power play goal and Ondrej Kaceti finished the 23-save shut-out.
---
4. "Name the Logo" Answer
The Berlin River Drivers was a minor league team that was in business for two seasons from 2015 to 2017 in the Federal Hockey League. Based in Berlin, New Hampshire, the home games were played at the 1,680-seat Notre Dame Arena.
---
5. The Sunday quiz:
What Stanley Cup winning head coach and longtime hockey executive was the captain of a team that won a World Championship in the 1950's?
See you on Thursday. 
Enjoy the hockey action !