Discover more from Hockey Wanderlüst
All things Euro-pucks at home and in the NHL. From veteran international journalists Rob Simpson and Risto Pakarinen and hockey biz executive Ken Yaffe.
Hockey Wanderlüst - March 18th
It's a great day for hockey ... from Chelyabinsk to Chicoutimi
NEWSWIRE:
Dynamo St. Petersburg (MHL, one tier below KHL) captain Timur Faizutdinov died Tuesday, three days after being hit in the head with a puck. He was 19.

Former West Germany national team player and Swiss national team head coach Ralph Krueger is also a former NHL coach for a 2nd time. The Buffalo Sabres dismissed Winnipeg-born Krueger - a Swiss citizen these days - on Wednesday.

Norwegian hockey leagues pressed pause in January and haven't played since. On Wednesday, the Norwegian federation announced that the season is over due to Covid concerns. Frisk Asker, second in the Fjordkraftligaen standings, but number one in points percentage, will be the official men's champion, according to the rules set before the season. Undefeated Stavanger tops the women's league.
---
STORIES:
Tretiak Out at IIHF

"Europe Saved the NHL" - Q & A with Alpo

Status of the Worlds, the Worlds & the Worlds

Finnish League Goes Green

Who Are We?
---
FEATURES:
Red Hot Euro NHL'ers

SHL Top 5 Wicked Saves

Liiga Standings

Name that Logo!

Trivia Answer
---
Tretiak Resigns from IIHF Council
(via Simmer)
Legendary goaltender and hockey executive Vladislav Tretiak has resigned from his position as an International Ice Hockey Federation Council member and from federation committees due to a Court of Arbitration in Sport (CAS) ruling.
The World Anti-Doping Agency in 2019 originally banned Russian athletes from participating in international events for four years, including Olympic Games. Now, considering the sanctions that were upheld in arbitration, Tretiak, the President of the Russian Ice Hockey Federation since 2006, made the necessary move to step aside. The always stellar "Around the Rings" publication summed it up nicely:
Tretiak, however, is also an elected parliamentarian of the State Duma. Under the sanctions upheld in the CAS ruling, for the next two years no representatives of the Russian government may be appointed or sit as members of any boards or committees of any organization that has signed the World Anti-Doping Code. (3/17/21 - Around the Rings) The IIHF being one of those organizations.
The Russians plan to nominate Hockey Hall of Famer and Olympic medalist Pavel Bure to replace Tretiak.
---
Snap Shots …
Vitali Kratzov, from our March 11 KHL playoff round-up, should be joining the New York Rangers in the next few days. His Traktor team lost in the first round, so the 2018 9th-overall draft pick can re-join the Blueshirts. The winger played 39 games in the AHL last season and should see an opportunity with the big club.

"Quarantine" is a word Anton Lundell, the Florida Panthers' first-round pick from 2020, would surely like to forget. Monday, Liiga announced that his Helsinki IFK team is one of three going into a mandatory 14-day quarantine per Covid-19 protocol. Lundell was quarantined both before and after the World Juniors - albeit for a shorter period of time - and again after a national team tournament in Sweden. Around that time he contracted Covid-19.

Correction: Regarding our March 14 report - we were reminded by a Finnish friend that the Czech League does not have relegation this season because of Covid. How's that for international cooperation.
---
Alpo Suhonen: "Europe Saved the NHL"
(via Risto)
Why is it so difficult for European coaches to break into the best league in the world? Alpo Suhonen, the first European-born and trained NHL head coach, has some ideas. We spoke with the game's free-thinker.  
Risto Pakarinen: Alpo, there's been a lot of talk about how NHL coaches have had to change because their methods don't work with today's young players. In your opinion, how has coaching in the NHL changed?
Alpo Suhonen: I had my first contacts with NHL coaches in the mid-1970s when I met Fred Shero and Al Arbour and then got to actually work as a coach on the Hartford Whalers training camp in the early 1980s. 
By the time I was an assistant coach with the Winnipeg Jets and then the Toronto Maple Leafs in the late-1990s, the lone bench boss had given way to a coaching staff in which everyone had their area of responsibility, even if the staffs weren't as big as they are now. 
However, since the leadership structure is centered around a general manager who picks the team and hires (and fires) the coach, the old-fashioned hierarchy is still in place. 
The coaches have become better at tactics, game strategy, and player development, but their leadership style is still, to put it nicely, a bit conservative.
RP: Why is it so hard for a European coach to get a job in the NHL?
AS: Four things. One: tradition. There's been a long tradition of players becoming coaches and coaches becoming GMs, so social network and common experiences matter. 
Two, North Americans, and especially Canadians, didn't have any respect for European hockey until the 1990s. And if you think they can't play hockey, why would they have good coaches? And yet, European hockey saved the NHL. Fred Shero told me he looked up to the great Soviet coach, Anatoli Tarasov, as a player development guru, and in the 1980s, the Oilers coach Glen Sather and others travelled in Scandinavia and copied our drills.
Third, European culture, especially in the Nordics and Central Europe, differs from North American culture, and it does take two to tango. That brings me to my fourth point: The coach has to know the league as well as the culture, and not just the hockey culture. As I mentioned, I had my first contacts in the NHL 25 years before I became the head coach of the Blackhawks. 
RP: When will we see the next European head coach in the NHL?
AS: [Chuckles] Maybe next week, maybe in ten years from now. There's no formula.
RP: What are you working on these days?
AS: I've always been interested in philosophy and what it means to be a human, and right now I'm working on a book, with the working title, The concept of human being, being human as a performer. It draws from my experiences in hockey since the 1960s. It's time to move from the old leadership models that see players as dualistic body-mind objects toward a human-centered, autonomic, and holistic view.
---
Update on the Worlds, Worlds, and Worlds
(via Simmer)
The IIHF Safety Council held its latest meeting on Tuesday and these are some of the items that were modified or stayed the same. The key words for all of these tournaments are "subject to change", because that's just the nature of the game with Covid. Keep in mind, multiple levels of government(s) can impact plans at any point.
The Under-18 Men's Worlds is slated for April 26th through May 6th in Texas, where one can expect 40% capacity for fans in attendance in Frisco, no fans in the building in Plano, and one hotel housing all of the teams in each respective city. The five teams in Plano are Sweden, Canada, Belarus, Latvia and Switzerland in Group A, while Russia, US, Czech Republic, Finland and Germany play Group B in Frisco.
The Women's World Championship is set to run from May 6 through the 16th in Halifax and Truro, Nova Scotia and for the moment will be open to very limited fan participation, full provincial quarantine procedures, and full bubble restrictions for the players. The US, Canada, Finland, Russia, and Switzerland are in A (Halifax), Japan, Czech Republic, Germany, Denmark and Hungary make up B.
The Men's World Championship begins May 22nd in Riga, Latvia and will house all 16 teams in a single hotel with no other guests allowed. Presently, no fans will be allowed in the rink. In the case of all three tournaments, the media will be interacting with players only through video conferencing.
Subject to change.
---
Cycle the Puck, Recycle the Rest
(via Risto)
Today, March 18, is the Global Recycling Day. Jyväskylä JYP in the Finnish league marked the occasion on Tuesday by donning new jerseys for the first period in their home game against Hämeenlinna HPK. The green jerseys are made of recycled polyester fibre which, in turn, was made out of shredded recycled plastic bottles. 
That's just the latest step in the Finnish league's and its teams' efforts to go green. 
The Liiga has done a league-wide assessment of greenhouse gases and drafted an environmental program which "promotes sustainable development with the aim of saving our winter sports and stopping climate change."
In June, Helsinki IFK announced that they, too, will measure their carbon footprint, but no-one's gone as far as the Lahti Pelicans who want to become the world's first carbon-neutral hockey team by the end of the year.
"We partnered with the City of Lahti in 2019 when they put in their bid to become the European Green Capital 2021. The city's goal is to be carbon-neutral by 2025, we aim to hit that target by the end of 2021," says Lauri Pöyhönen, Pelicans CEO. 
According to the Pelicans carbon footprint assessment, it's the fans coming to the games that have the biggest carbon footprint effect, followed by the players' and club staff's transportation to the arena, and arena electricity. The team stopped flying to away games, and their buses switched to using bio diesel. Players are encouraged to walk and ride their bikes to practices – if they're not using cars that run on biogas, made out of biodegradable waste and sewage sludge. 
"Our biggest challenge is to change the behaviour of the fans who mostly drive to the rink," says Pöyhönen. 
Ninety percent of Lahti's population live within 5 kilometres of the arena, but even if, a 5K walk or a bike ride in early February can be chilly. 
The arena company has also turned to using non-fossil fuel electricity, which has decreased its carbon dioxide emissions to 200 tonnes, a third of their previous emissions. Going with renewable energy sources will drop them to 50 tonnes. 
"The tickets are our biggest paper products and they're practically gone. I don't think paper will be used the same way in five years," he says. 
There have been some changes at the concession stands as well. 
"We'll have more plant-based options and all food will be locally produced," says Pöyhönen.
Paradoxically, Covid-91 - and lack of fans - has helped the Pelicans get closer to their carbon-neutral goal, but Pöyhönen says that they'll hit the target anyway. If all else fails, Pelicans will offset the remaining emissions using the Helsinki-based Compensate, a nonprofit combating climate change.
Oh, the green jerseys worked; JYP bagged their biggest win of the year, 7-3.
---
Wanderlüst Team Tidbits
Ken Yaffe has been working in pro sports for more than three decades; most of that focused on the sport of hockey. His favourite team growing up was the Blackhawks.
Risto Pakarinen is a freelance writer, whose byline has appeared in The Hockey News, The Sporting News and ESPN.com, as well as on NHL.com and IIHF.com. His favourite all-time player is Valeri Kharlamov.
Rob Simpson has produced and hosted two NHL-related documentaries in Africa. He grew up a Red Wings fan and his hero is Gordie Howe.
---
Features:
1. Red Hot NHL Europeans
Muy Caliente. A literal cavalcade of nations. March 10 to March 17
(PPP - power play points, P/GP - points per game)
Leon Draisaitl (EDM) - Germany - 5GP, 6G, 6A, 12 PTS, +6, 6 PPP, 2.40 P/GP
Mika Zibanejad - (NYR) Sweden - 4 GP, 3G, 5A, 8 PTS, +4, 1 PPP, 2.00 P/GP
Aleksander Barkov - (FLA) Finland - 3 GP, 4G, 3A, 7 PTS, +3, 1 PPP, 2.33 P/GP
Kirill Kaprizov (MIN) - Russia - 4GP, 4G, 2A, 6 PTS, +6, 1 PPP, 1.50 P/GP
Philipp Grubauer - (COL) Germany - 3 GP, 3W, 0L, 0.54 GAA, .973 Save%
---
2. SHL Saves of the Week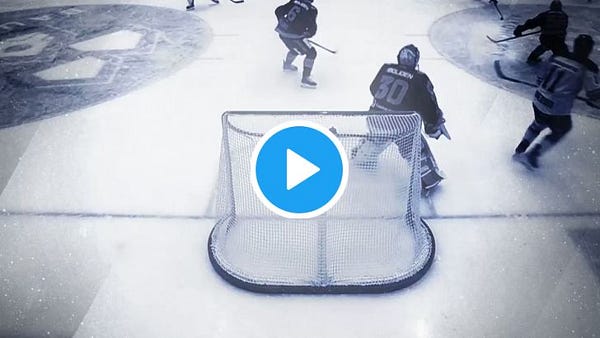 To watch, click the tweet
The hand is quicker than the eye when Sollentuna native Niklas Svedberg, Djurgården, catches Patrik Norén's slap shot.

Samuel Ersson, Brynäs, stops Jaakko Rissanen's (Linköping) breakaway.

HV71's Zion Nybeck only has to beat Viktor Fasth but the former Duck and Oiler can't be deked.

Mantas Armalis, Djurgården, goes post to post and stops Oskarshamns forward Lance Bouma's backhander.

Finnish Kim Strömberg flies down the right wing but can't finish when Örebro's Norwegian goalie Jonas Arntzen says "no(r) way".
---
3. Hei from Finland!
Lukko on top. The Liiga Standings with less than a month to go:
The regular season ends on April 13.

According to media reports, Finnish Liiga is planning to go for a best-of-two series in the first round of the playoffs, with aggregate goals deciding the team moving on. Game 2 will go to OT if tied. Both Liiga and the SHL in Sweden have a contingency plan to go to best-of-five series in the playoffs instead of best-of-7.

Petri Kontiola of HPK is Liiga's leading scorer with 44 points in 47 games played.
---
4. Name the LOGO: (answer Sunday)
---
5. Answer to Sunday's quiz:
The Question: Incredibly, in the entire history of the NHL, only one team has won the Stanley Cup with its regular number-one and number-two centres both being right-handed. Identify the team. (Hint: one centre is Canadian, the other European).
The Answer: Boston Bruins in 2011 with Patrice Bergeron (L'Ancienne Lorette, Quebec) and David Krejci (Sternberk, Czech Republic). The most recent champs, the Tampa Bay Lightning, flirted with this, but Anthony Cirelli, the 2nd-line centre for much of the regular season and the playoffs, is left-handed. Brayden Point, Steven Stamkos, and Tyler Johson are all right shots.
Prove us wrong and you'll win an autographed book. Good luck. (Thank you to Erik Erlendsson with help on the Tampa Bay timeline - LightningInsider.com )
See you on Sunday.
Enjoy the hockey action !